After weeks of leaks and speculation, Rane has announced two new products: the SEVENTY-TWO mixer and the TWELVE controller. They are the first products the company has announced since its acquisition by industry giant inMusic in 2016.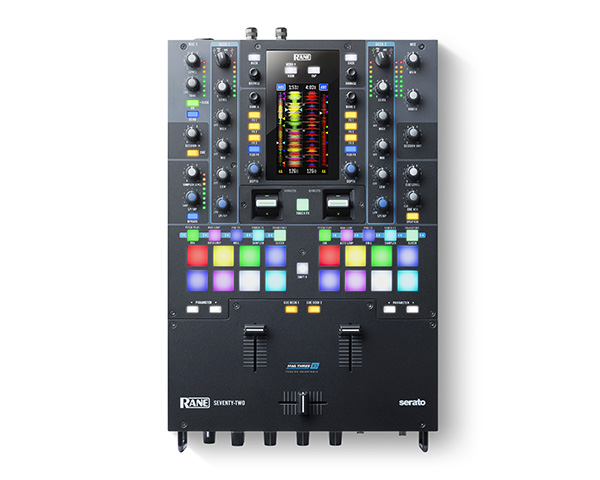 SEVENTY-TWO Mixer
The SEVENTY-TWO is a two-channel battle mixer which features a pair of USB ports, and a 4.3-inch color touch screen. The screen shows Serato DJ's moving waveforms and cue points and enables track browsing and loading. It also controls the mixer's two internal FX engines as well as software FX.
In terms of build, the SEVENTY-TWO retains the solid steel construction of previous Rane mixers. It also includes the company's new Mag Three contactless tension-adjustable technology for both the crossfader and upfaders. A set of 16 MPC-style performance pads offers a host of different modes and allows independent controls for each deck.
TWELVE Controller
The TWELVE is a 12-inch motorized platter controller for Serato DJ. It was designed to offer DJs the comfort and precision of vinyl control without skipping needles or feedback issues. The TWELVE is laid out exactly like a traditional turntable for a familiar experience but connects directly to a computer via USB.
The TWELVE features a touch strip for track scrubbing, which can also be switched to control cue points. It has a selectable pitch range, as well as 33 1/3 and 45 rpm speed options, and a rotary motor-off switch to emulate powering down a regular turntable. Each TWELVE can control up to four virtual decks in Serato DJ via a selection switch, and up to four units can be used simultaneously with the software.
It has a 5.0 kfcm high-torque motor with an optional lower torque setting for a more classic feel, and 3,600 ticks of platter resolution for high performance.
Although there are dedicated ports for the TWELVE on the SEVENTY-TWO mixer, the controller can be used with any Serato DJ hardware.
The SEVENTY-TWO and TWELVE are set to have a street price of $1,899 and $799 USD, respectively. Both products are due to ship in Q4 2017.
Watch Rane's announcement video below.
Popular
DJ Lady S was born in Belgium and is currently based in New York. She has evolved musically from her love of hip-hop and RnB to house, afrohouse, techno, a...