Eric Hamilton performs with Diplo. (Source: Eric Hamilton)
In March, Diplo launched a channel on SiriusXM called Diplo's Revolution. It made sense: over the past six years, the Mad Decent founder's weekly Diplo and Friends program on BBC Radio 1Xtra has become one of the most popular and influential mix shows in the world. It has earned that reputation by focusing on booking a diverse range of forward-thinking guest DJs.
Now, with his own station at the world's largest radio company, Diplo has expanded his taste-making empire. Diplo's Revolution boasts a diverse lineup of hosts including Armin van Buuren, Oliver Heldens, Destructo, GTA, and Party Favor, all of whom are influencers in their own right. Major Lazer members Walshy Fire and Jillionaire also have shows.
Like any project, there are key people behind the scenes who make it possible. In the case of Diplo's Revolution, it's the channel's 34-year-old Program Director, Eric Hamilton. Born in Long Beach and raised in Riverside, Hamilton cut his teeth DJing in Los Angeles in the 2000s. In 2012, with no prior radio experience, he began producing a syndicated show on iHeartRadio for his friend Dillon Francis. After proving himself on air, Dillon's manager, Kevin Kusatsu, who also manages Diplo, asked Hamilton to get involved with Diplo and Friends. The show had been on the air for only a year and hadn't reached its potential.
Since then, Hamilton has served as the executive producer of Diplo and Friends, helping book guests, produce mixes, and guide the show's direction. (Hamilton was Diplo's assistant for part of that time.) Hamilton has also been involved with Major Lazer: he occasionally fills in for Jillionaire at shows and is the executive producer of Lazer Sound, the group's program on Apple Music's Beats 1 station.
Given the success of Diplo and Friends and his close relationship with Diplo, Hamilton was an obvious choice to be program director of Diplo's Revolution. We recently spoke with him to learn more about his role and how the station operates.
How did Diplo's Revolution come about?
Renee Brodeur, who manages Wes [Diplo] at TMWRK, brought the opportunity up in March 2017 and worked incredibly hard on getting the deal done to make it happen.
What does your role entail?
I help go through music with SiriusXM's team and pick out stuff that plays in the rotation. I also reach out to people to do mixes or shows.
What do you look for when booking guest DJs?
If there's someone that's up and coming and making great new music, I'll try to reach out to them to see if they want to play any of it in a mix. For the most part, if someone wants to do a mix, they should have it coincide with a release. Or if they've got a tour, show or something that they want to shine a light on, I try to have them pinpoint the date, so there's a lot of buzz.
How much freedom do you have?
We have a lot of freedom. When this station started, I sent SiriusXM a folder of like 500 songs to play, and they were all really impressed with the music.
Do you have a favorite host so far?
GTA's show is one of my favorites because it's exactly what the station is about. It's called Death to Genres, and that's pretty much the vibe of the station. I'm probably one of their biggest fans because those guys have been making really dope club stuff for so long, but it still works today. Those guys get it. I feel like that's something that's always going to be constant with Diplo's Revolution. It's going to have people on there that are making really dope stuff, and if they have the time and want to do a show, then I'm going to give them the opportunity.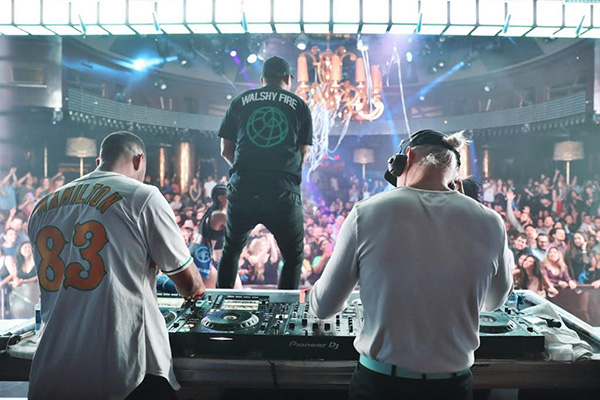 Eric Hamilton performs with Major Lazer. (Source: Eric Hamilton)
Some SiriusXM subscribers are unhappy that Diplo's Revolution replaced Electric Area. What do you tell them?
We like house, trance, and all different types of music. That's what this station is about. It's not just one thing. Some people are mad because they think it's one thing. But a lot of the stuff they think is not there is still there and they got to give it a chance. We're at a point in the music world that people like variety. Look at festivals. Imagine going to Ultra Music Festival and hearing the same music on every stage. People don't want to hear the same thing all the time. The station has variety, and it's like going to a festival with different stages. That's where music is right now. I've gotten a lot of positive feedback, though. People want to do shows on the station because they like the idea and what we're doing. It's been really cool to get words of encouragement from other DJs and producers in the music world.
Does it ever get stressful working on three different radio projects?
I have someone that helps me from time to time, but it can be stressful trying to maintain the creative energy and make people want to come back. That's the one thing I'm always focusing on: making something that's cool and makes sense to the masses, so they want to come back. Radio is radio. It's all kind of the same, but I don't want one show to be better than the other. I want everything to be top notch.
Out of the three platforms that you work with (Apple Music, BBC Radio, and SiriusXM), do you have a favorite?
I like SiriusXM more because we don't have to censor anything. That's one of my pet peeves. SiriusXM is the only place where stuff isn't censored. I wish Apple Music's Beats 1 was uncensored. I wish it had more freedom of speech.
What's your favorite part about working in radio?
Getting new music before anyone. Working with Wes, you get to hear a lot of stuff first. You're at the forefront of what's going to be happening next. It's like being in the now before the now happens. It's also cool to be able to meet people that you're a fan of. I've gotten to meet a lot of people that I looked up to when I was younger and see a lot of places that I never thought I'd see.
What's the most important thing you've learned from working with Diplo?
I've definitely gotten the work ethic from him. He's always on the grind, constantly coming up with new everything. Look at his production list; there's no boundaries. It's like you conquer something, but there's more to be conquered. It's a never-ending hustle. He's been an inspiration. That's why I was really psyched to work with him. He's helped me improve and keep me on my grind and constantly be on the lookout for what's cool and what's happening and what needs to be shown to people and presented in the music world.
Follow Eric Hamilton on Instagram and Twitter.
Related: Las Vegas Talent Buyer Dave Fogg Gives Insight Into His Booking Process
Popular
Wedding season has arrived! DJcity's Remix Director Sir Marcus has put together a list of wedding-friendly tracks guaranteed to freshen up your DJ sets and...