DJ Tessa performs at the LA Food Bowl. (Credit: Matthew Withers)
In an industry that is still predominantly run by men, Tessa Young a.k.a. DJ Tessa is pushing boundaries for female DJs. While DJing in Los Angeles in the early 2010s, the Reno, Nevada native noticed that booking agencies had few women on their rosters. With years of DJ experience, connections, and a paralegal background, Tessa launched Prism DJs, an all-female agency.
Launched in 2015, Prism books DJs for mostly mobile gigs such as corporate events, weddings, and other special and private events. The agency currently has 23 DJs on its roster, including Annalyze, ShanLynn, MissNINJA, and Frazier Davis. As the female DJ movement continues to rise, we caught up with Tessa to discuss Prism DJs, the challenges of running an all-female agency, what she looks for when signing new talent, and more.
Why do you think there is such a low number of women represented by DJ agencies?
I think there are just more male DJs than female DJs in general, so it was never going to be equal based on the ratio. But now, in a time when mixing and production lessons are more accessible, less intimidating, and our male counterparts are more supportive, I see more women genuinely interested in music production and DJing. In turn, more women will be added to these rosters eventually. We all need to make it a priority to level up creatively and skill-wise if we want to play on the same field.
How does Prism differ from other agencies?
Our DJs are talented, vetted, and have several years of experience. Also, I make it a priority to protect Prism's DJs by being transparent, ensuring timely payments, handling riders, logistics, and securing, and enforcing contracts.
What are some of the unique skills required for being a mobile DJ versus a club or festival DJ?
Being a mobile DJ is definitely more labor intensive if you are setting up and breaking down your own gear. If there is a technical problem, you need to know how to fix it yourself. As a mobile DJ, especially for weddings and dance parties, the DJ needs to know how to read a crowd and select accordingly, be aware of energy levels, have knowledge of many genres, and span generations of music. Club and festival DJs might have the luxury of playing their own produced tracks or a curated set. Sometimes they get their own on-site audio technicians that standby to handle technical difficulties for them. They can have more freedom to play what they want or what they specialize in, rather than a mobile DJ that caters to the crowd.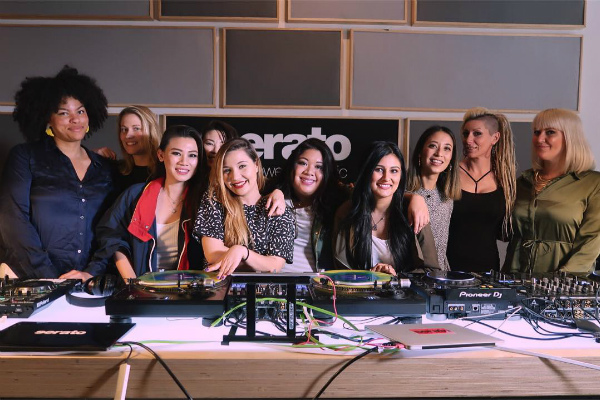 Prism DJs at Serato's studio in Los Angeles. (Source: Instagram)
What is the biggest challenge of running an all-female DJ agency?
The Los Angeles market is very competitive, whether you are male or female. There are so many amazing DJ options. In this social media-driven world we now live in, we need to market ourselves more sophisticatedly and creatively. Just being titled a "female DJ" or "female DJ agency" does not ensure work.
What do you look for when adding new talent to your roster?
I look for several things: above-average mixing skills, exceptional selection, vast knowledge of music genres, professionalism, and a positive attitude. I prefer that the DJs can jump on any gear with ease, including turntables, CDJs, controllers, and various mixers. DJs must also have more than two years of experience playing regularly in public. In the age of social media, it is also important for the DJ to have a good online image because clients are doing their own research to make sure that their DJ choice is a good brand match for their event.
What are your plans for the company and where do you see it going?

Prism DJs is still growing as an agency and brand, so I am continuing to work diligently on that. In the very near future, I would like Prism DJs to get more involved with the community and offer workshops to young, aspiring female DJs. Other than that, we'll just see where this takes us!
Do you have any advice for someone who's looking to start a DJ agency ?
If you have good eyes and ears for talent, along with marketing, management, and administrative skills, then you have all the necessary elements required for a successful agency. Go for it!
Follow DJ Tessa on Facebook, Instagram, and Twitter.
Follow Prism DJs on Facebook, Instagram, and Twitter.
Related: Las Vegas Talent Buyer Dave Fogg Gives Insight Into His Booking Process
Popular
Wedding season has arrived! DJcity's Remix Director Sir Marcus has put together a list of wedding-friendly tracks guaranteed to freshen up your DJ sets and...